Des Histoires de Nappes


Since 2019
Tablecloth
Variable dimensions
Repurposed fabric


---
FR Des histoires de nappes a débuté en juillet 2019.

J'ai demandé sur les réseaux sociaux si des personnes étaient enclines à utiliser une nappe blanche dans leur quotidien.

Les nappes ont été envoyées par la poste ou données à un.e intermédiaire et ont été utilisées comme telles.

Après le délai minimum d'usage, je me suis invitée à la table des participant.e.s pour le dernier repas de la nappe. La rencontre terminée, je prélève l'objet-témoin.

----------------

La conception du Cuizine a démarré en 2020, certaines recettes sont un peu floues, concises ou très détaillées. Elles sont le résultat de la recomposition de mails, retranscriptions de conversations et de copiés-collés de messageries instantanées.

Ce carnet de recettes permet de retracer la rencontre dont la nappe a été témoin. Elles sont présentées par ordre chronologique des rencontres.




EN Des Histoires de Nappes started in July 2019.

I asked on social networks if people were inclined to use a white tablecloth in their daily life.

The tablecloths were sent by post or given to an intermediary and were used as such.

After the usual minimum time, I invited myself to the table of the participants for the last meal of the tablecloth. When the meeting is over, I pick up the witness object.

-------------

Cuizine started in 2020, some recipes are a little vague, concise or very detailed. They are the result of the recomposition of emails, transcriptions of conversations and copy-pasted instant messaging.

This recipe book allows you to trace the encounter witnessed by the tablecloth. They are presented in chronological order of meetings and adapted to my food intolerances and allergies.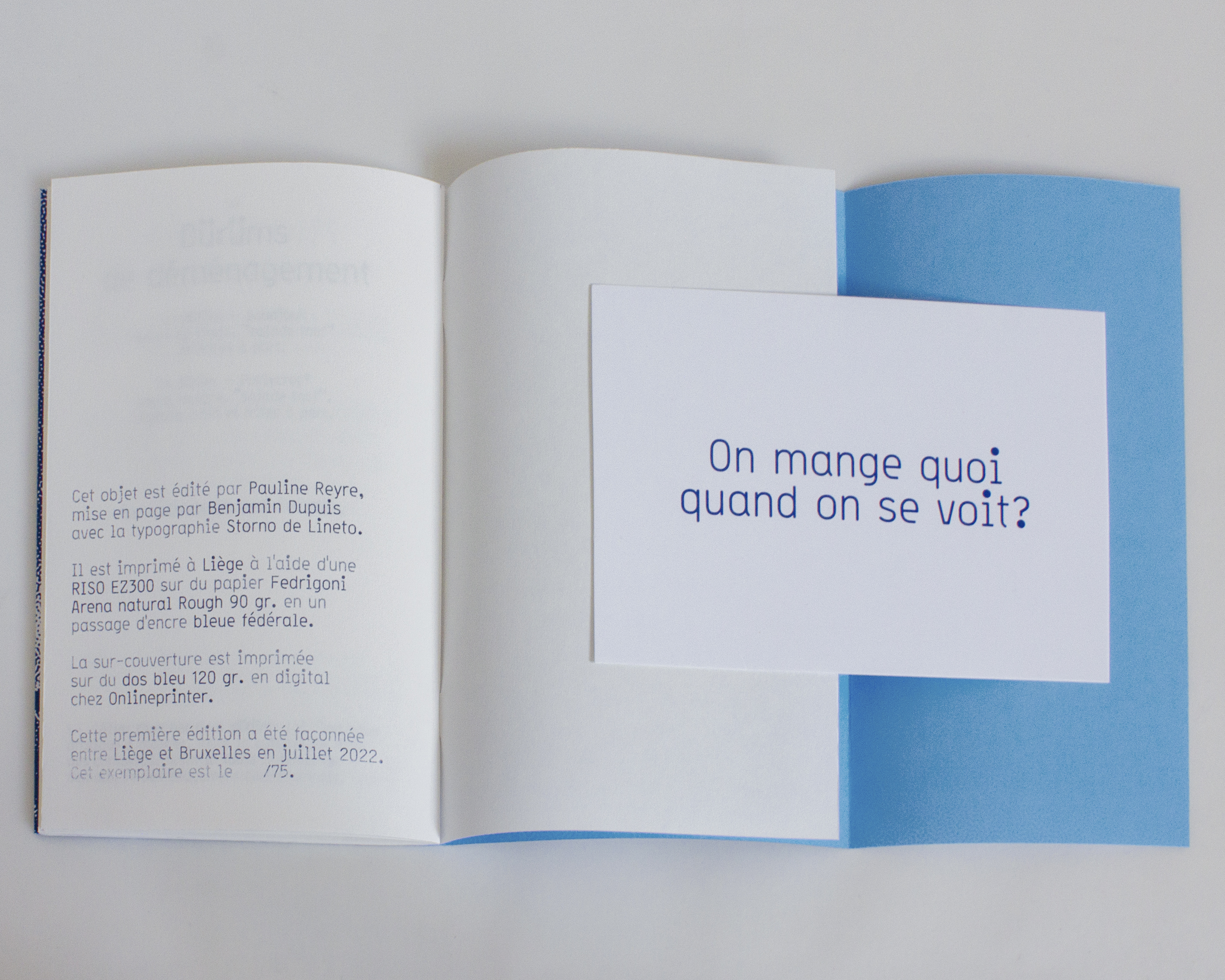 Cuizine, autoédition imprimée en Riso en 75 exemplaires. Photos : Emilie Orengo




Time-lapse de l'exposition de sortie de résidence aux Abattoirs de Bomel à Namur (BE) 2020 :